In a connected world, location and maps have become a vital part of most applications. Nearly every business has a need for affordable, viable, accurate map data to draw customers to their door, increase efficiency of their workforce, and ensure products and services are provided in a timely manner. Crowd-sourced data provides an economic way to achieve these goals but does not provide the reliability needed by most business needs.
Businesses need a reliable, accurate location and mapping platform to keep things running smoothly. Comtech's Trusted OpenStreetMaps (TOSM) convert crowd-sourced data into mapping data that is suitable for commercial mapping and vehicle navigation as well as public safety applications.
Why does your organization need crowd-sourced maps?
• Provides free, updated data instantaneously
• Engages with customers and employees in an up-to-the-minute format
• Runs in countries where resources to collect data is limited
Why does your organization need Trusted OpenStreetMaps?
• Provides accurate data which is cleaned, normalized and enhanced beyond OSM
• Enhanced with additional data sources, offering a feature-rich experience
• Updated with real-time traffic conditions
• Supports integration with additional data layers
• Works with industry-proven navigation engines for routing, geocoding and map rendering
From OpenStreetMap to Trusted OpenStreetMaps
Data Cleaning
Removing inaccurate, unnecessary, and duplicate data is an important feature of TOSM. Sometimes, data contributors input erroneous information leading to a poor user-experience. In some cases, rogue contributors edit data with inappropriate names or inaccurate information which diminishes the reputation of the application. Trusted OpenStreetMaps has algorithms to correct errors and check for data vandalism. Once sanitized, OSM data is then partitioned and indexed for high performance processing.
Normalization
Proprietary algorithms normalize attributes like ramps, roundabouts, route types and road names. These algorithms identify missing attributes in OSM data and add them into TOSM. Realtime navigation benefits from detailed road attributes, enhancing the overall user experience. These algorithms scan the data, adjust road classifications, and add rich elements important for routing.
This is how data changes from OSM to TOSM: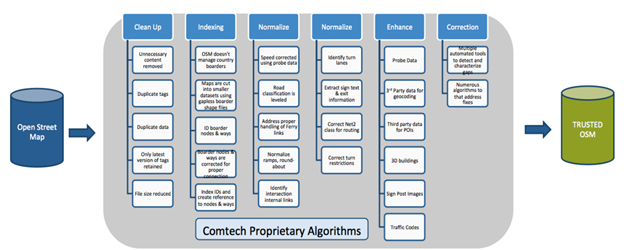 Enhancement
TOSM algorithms use data collected over time to adjust road speed based on road classification and density. TOSM combats the lack of geocoding data in traditional OSM by using data from Tiger and other third parties to add address ranges and point addresses. TOSM converts prominent building polygons to 3D untextured buildings. Using proprietary algorithms, sign post images are generated from sign text and associate with roads in real-time navigation. TOSM also has unique traffic codes (Tcodes) which can support real-time traffic. Interactive, searchable points of interest (POI) from any source can be added as another layer on top of TOSM. The platform is designed so layers can be customized for individual users.
Validation
TOSM also has several automated tools to test and validate different layers of data. Regression test suites are used to test TOSM data at the engine level providing useful feedback for quick correction and data validation.
Comtech's TOSM platform is a feature-rich, immersive solution for mapping and turn-by-turn navigation in any environment. We clean, enhance, and integrate third-party data sources to empower you to deliver the best map experience possible. This technology is used by public safety, navigation applications, people and asset tracking as well as logistics and transportation. Comtech can build the right solution for your business to meet any need.